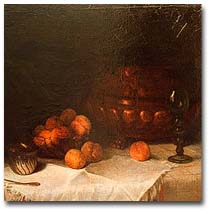 We have been restoring art works for over than twenty years enlighting the qualities of the paintings entrusted to us. We have a direct and personal relationship with our customers to which we advise restorations or occasions of purchase estimating, before and with them, values and defects of the handmade articles. Thanks to Picta.it we want to offer to art fans and collectors this personalized relationship proposing a range of art objects with some features in commone:
- high artistic quality
- integrity and good conservation of the work
- economic convenience

We can assure an optimal value for money because our ten year experience of restorers allows us to estimate and to propose only objects of excellent quality while, as far as the economic aspect is concerned, our virtual gallery enable us to pull considerably down the fixed costs such as the rent of the premises, staff, transports and so on.
In Picta you will not find hundreds and hundreds of paintings or thousands of engravings, but a fair number of proposals addressed to whom is in search of the quality and not only of the amount.

All pieces we propose have been selected personally and therefore, if you are interested in some of our proposals, we will be in a position to give you further information.
Next to the descriptive card of the art work you will not find the order form for purchase online because we believe that an art fan, or who simply wants to make an investment in an art work, is entitled to have a more direct and discreet relationship defining with us the conditions of purchase, payment and transport. Consequently we invite the interested people to contact us sending an email or calling ++39 335 5969061 (Gabriele Chiappa will answer).
If you want to see some of the art works that we propose we wait for you in our Gallery; otherwise we can estimate the state of conservation of your painting or value it from the artistic and economic point of view. Evaluation Do you want to discover to the difference between these two apparently equal terms: " school of the Veronese " and " workshop of the Veronese "? In the words of the art you will find the answer. Finally, if together with the art you are goumand, try our famous recipes in a painting a recipe.
Your comments and your observations do not disturb us at all but they will help us to realize a better web site. infopicta@virgilio.it